Model 74CS "ToughFlash" Angle Control Valve
The Model 74CS "ToughFlash" was conceived for installation in pipelines or vessels where the medium is errosive, or the process leads to cavitation through flashing.
The valve has a "Tough Flash" trim which can withstand process extremes seen in gasification, liquefaction, hydrocracking or in autoclave applications. It´s ideal to accommodate flashing in the valve.
Flow to close – opening into the valve

Hard material trim

Flashing occures in the protected seat / choke tube area

Up tp 180 bar let down in a single stage possible

Customised and replacable choke tube

Suitable for pipeline or vessel installation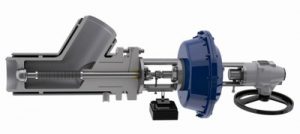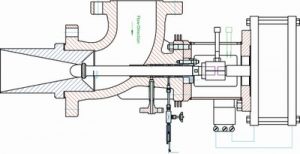 Angle Control Valve – 74CS, Figure 1+2:©SchuF