Mineral Ore Processing Valve Applications
The SchuF Group produces a broad range of valves for mineral processing, including pressure letdown control, drain, feed, and isolation valves.
Valves for Severe Service
SchuF specialises in the most severe service conditions found in the mining and mineral ore processing industry. These include handling high pressure letdown (to 200 bar), high solids content, abrasive materials, corrosive chemicals or a combination of all.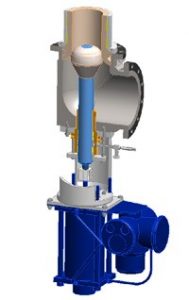 Example drawing of a high pressure letdown control valve with severe service trim for HPAL or Activox process
Picture: ©SchuF
Mineral Ore Processing – High Pressure Acid Leach
(HPAL) Valves
Oxidative leaching processes such as HPAL or Activox (for copper, nickel, cobalt and gold), push every piece of equipment to their limit and therefore require special severe service valves. SchuF provides control, isolation, and feed or drain valves customised according to the specific mineral ore process conditions and the piping/equipment requirements. Whether it is for a high pressure (5400 kPa) acid leach process – HPAL, or a mild pressure (1000 kPa) Activox leaching process, SchuF has an appropriate valve design.
Severe Service Valve Applications
Applications in mineral processing include:
Feed and drain valves for pipelines and autoclaves

Autoclave discharge pressure letdown

Flash cooling tower pressure letdown

Process ore slurry isolation

Autoclave isolation
1. Feed and Drain Valves for Oxidative Leaching Processes
Feed or drain valves located in or around the autoclave or flash tower must handle severe conditions – high temperature acid slurry, and high solid content. SchuF provides valves in Duplex, Hastelloy, or Titanium (1" to 36" to ASME 2500# as standard) with custom gaskets, and special coatings for the ram and valve seat. The valves have a number of advantages:
Fast acting, full bore flow

Dead space free drainage

No leakage to atmosphere

Fully hardened, diamond polished piston (extends packing life)

Automatic crust breaking

Maintainable in place
For more information, please see the drain valve product page
2. + 3. Severe Service Control Valves for HPAL Processes
SchuF provides control valves suitable for pressure letdown, feed and level control in and around the autoclaves and flash cooling towers. Key features include:
DN 25  (1 inch) to DN 600 (24 inch) forged or cast

Body geometry with constant acceleration to the seat

Duplex, Hastelloy and Titanium bodies

Special ceramic trim

Single or multistage letdown

Linear, true equal % or SchuF X3 bell curve control characteristic

Dead space free options

Easy to replace trim parts
Our expertise in material and long life trim design enables SchuF to minimise the effects of corrosion and scaling common in mineral processing applications. For more information, please see the control valve section
4. + 5. Isolation Valves for Mineral Processing Applications
The isolation of pumps, vessels and other equipment is critical to ensure operational efficiency and safety of mineral ore processing facilities. SchuF provides a range of isolation valves including Y-globe, diverter, gate, angle and high pressure isolation valves. In addition to special body materials and trim, SchuF Y-globe and Angle type isolation valves benefit from:
Optimised flow body design – low pressure drop

Zero leakage to atmosphere

Tight shutoff to ASME Class VI or API 598

Dead space free back seating option

Disc grinding option to clean valve seat
For more product information, please go to the Y-Globe product page
Are you looking for a special valve design fitting your requirements?
For further information or pricing please contact us via e-mail to: valves@schuf.com, phone: +49 6198 571 100 or fill in the contact form.