Pharmaceutical Applications
SchuF Pharma Valves have served pharmaceutical companies world-wide for over half a century.
Figure 1 illustrates a typical glass/PTFE lined Disc bottom outlet valves used by the pharmaceutical industry. These valves come with a number of features including emergency manual override, side-mounted actuation (to save space), and bellows to ensure zero leakage to atmosphere. Figure 1: ©SchuF
Download
SchuF has been addressing many of the major process and application challenges facing the pharmaceutical industry. Some of the more prevalent concerns are:
Process Analytical Technology (PAT)
Process Analytical Technology (PAT) enables chemical processes to be monitored with PAT tools, where direct insertion into a reactor vessel is required. Reactions can then be analyzed in real time providing immediate data on critical process control parameters.
By incorporating PAT technology into a reactor bottom outlet valve with built-in PAT probes, SchuF enables its customers to optimize pharmaceutical manufacturing processes (further information download "Valves for the Pharmaceutical and Fine Chemical Industries" brochure).
Contamination
To avoid the possibility of contamination and remnants in gaps, SchuF provides stationary FDA-approved O-ring seals. Single-part seat, body and disc spindle construction ensure that the all parts of the valve's interior can be cleaned and sterilised. All inner parts of the diaphragm valve can be enclosed in the rubber diaphragm to ensure that the valve is totally sterilisable.
Dead Space
All valves are fitted exactly to the reactor nozzle to ensure that there is no dead space at the bottom of the reactor which might not take part in the mixing process. The valves are designed to allow the vessel and themselves to drain completely.
Media containing solids and crystals
Disc valves are compact, offer positive sealing and feature automatic crust breaking on disc rising versions. However a piston valve may be preferred on large reactors as the drainage time may be reduced by up to 5 minutes, allowing more batches to be produced. Because the piston withdraws completely out of the flow path, they are also better able to handle large crystals which may get stuck between the disc and the seat. Piston valves are available with either radial or metal-to-metal sealing surfaces.
Sealing to outside
To eliminate leakage to the outside, all disc rising valves can be fitted with either a PTFE extruded bellows (Model 25BF), a metal bellows (Type 25BH), or a PTFE or PTFE diaphragm (25BM). These seals are also available for disc lowering valves (Models 24BF, 24BH and 24BM). In all cases an emergency the stuffing box provides security in the event of a seal failure.
All disc valves have an FDA-approved PTFE sealing ring and a fire-safe metal back up seal.
An insert into the nozzle is usual for disc valves. The gap between insert and nozzle can be fitted with a CIP connection and flushed out between different batches, or else can be closed off from the process in the vessel using either an O-ring,  a lip seal or an expandable seat.
Large gap for CIP     GMP O-RING       GMP Lip seal         Expandable seat  
Figures 1-4:©SchuF
Clean-in-place
All valves can be fitted with flushing ports (standard with lined valves Type 25BF) allowing cleaning of the valve while a reaction is taking place in the reactor.
Temperature sensing
Placing a temperature sensor in the valve disc or piston ensures that the reactors contents can be measured even when the batches are very small. In addition, a nozzle and space at the top of the reactor is saved by this arrangement. The sensor leads can be terminated in a junction box on the yoke or under the actuator. Here the advantage is that the probe can be removed for calibration or replacement while the reactor is charged.
The measuring probe is placed in the tip of the device and a small spring ensures that the probe is pressed against the inner side of the disc or piston, which has been machined to only 1-2mm thickness. As the probe is inside the disc, there can be no leakage to the outside. Accurate measurements can be obtained with response times of approximately one minute.
                        Glass Disc With                             Extended Metal
                         Integral Sensor                        Temperature Sensor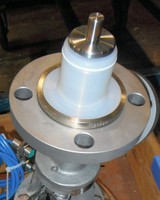 Examples of different Disc Valves with integrated Temperature Sensor
Fire safe
To limit the damage of a fire, it is vital that reactors, storage vessels and their outlet valves remain intact to prevent feeding the fire or polluting the extinguishing agents. All our valves can be offered in a fire-safe version. We are the only manufacturer to be able to do so. We also offer fire-safe variants for our PTFE and glass-lined valves.
Sampling
Sampling Valves and systems are available to drain a sample optionally:
1. from the bottom or side of a reactor (Model 32)
2. to suck a sample from the top of a reactor by means of a vacuum (Type 34) or to trap the sample and push it out using air or nitrogen.
4. Line sampling valves are also available (Model 31/33).
Please see our client list in the company section for a full list of our customers which include Pfizer, GlaxoSmithKline and Novartis in the pharmaceutical industry.
Are you looking for a special valve design fitting your requirements?
For further information or pricing please contact us via e-mail to: valves@schuf.com, phone: +49 6198 571 100 or fill in the contact form.