Globe Valves
The SchuF Y Globe valve is unique with respect to its flexibility, high Cv and reliable performance.
It can be provided as a standard Y Globe valve or as a special control valve for severe service applications. They are widely used in the Plastic and Polymer Industry as well as control variants in the Petrochemical, Chemicals, Mineral Processing and Refining industries.
Download
Y Globe Valve Applications
Y Globe valves offer the perfect compromise between flow and sealing requirements. The flow control characteristics are much better than a globe valve, while the zero leakage sealing performance far excel that of a ball valve.
              Y Globe Valve with jacket                                   Y Globe Variant
Key Characteristics of SchuF Y Globe Valves
Designed to operate in temperatures up to 700 degrees C

Suitable for ASME pressure ratings of 2500# or high vacuum

Available with a disc or piston plug

Dead space free

Extremely low leakage to atmosphere options (with stuffing box or bellow seal to atmosphere)

High Vacuum version features a completely enclosed yoke
Options
Control trim and equal %, linear or X3 bell control curve characteristics

Cleaning in service through flushing port(s)

Disk grinding option available

Can be partially or fully jacketed

Can be combined to and from multi port valves

High level of customization as required
Y Globe Valve Materials
Y Globe Valves are available in all materials including cast-steel; stainless steel, all nickel based alloys, titanium, zirconium and others.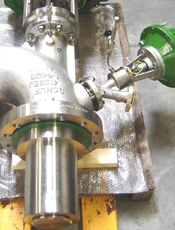 High Vacuum Y Globe Valve                          Body with Integral Flushing
Y Globe Valve Model Numbers
Contact Us
For further information or pricing please contact us via e-mail to: valves@schuf.com, phone: +49 6198 571 100 or fill in the contact form.